Scottsdale's Favorite Hangout Since 1998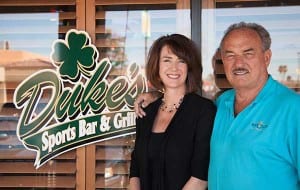 Founded by the father-daughter team of Al and Jackie McCarthy, Duke's Sports Bar & Grill has been a Scottsdale favorite since 1998. Al and Jackie love meeting new people and making your day better. They believe that owning a bar is not something you choose, it is simply in your blood.
And that is obvious with Al's more than 40 years of experience in the restaurant business and Jackie's enthusiasm. Duke's is a mom and pop business that makes everyone feel special. You can expect a big "hello" when you walk in the door and a lot of "thank yous" when you leave.
If the customer service isn't enough, Duke's has a ton of features, including the ability to show three different games with sound in 3 different rooms. They have an NFL package, NCAA football and NBA basketball package, and an NHL and MLB package so you won't miss the big game. They can even show some of the smaller school games. If you are a Montana fan, they show all of the Montana Grizzlies regular season games and both the Montana Grizzlies and Montana State Bobcats games during the playoffs.
Stop by and check out our many amenities, enjoy a drink on one of our patios, watch a game, and enjoy one of our many dishes. We'd love to have you!